Basic hii pen course Was £1899 Now £1399
NEEDLE-FREE FILLER TREATMENTS ARE NOW A REALITY THANKS TO ADVANCES IN TECHNOLOGY. USING HYALAURONIC ACID BASED PRODUCTS, OUR CUTTING EDGE TECHNIQUE CAN TRANSFORM YOUR AESTHETIC OFFER TO YOUR CLIENTS.
WE PROVIDE TRAINING ACROSS THE COUNTRY FOR HYALARON PEN - BECOME QUALIFIED AND MAKE YOUR AESTHETIC BUSINESS EVEN MORE SUCCESSFUL.
GET TRAINED ON THE UK'S NEWEST LEADING FILLER APPLICATION. TRAINING ACADEMIES ARE AVAILABLE ACROSS THE UK.
CURRENT TRAINING DATES...
LIVERPOOL (2019) - 12th, 21st, 22nd OCTOBER,
12th, 18th, 19th November, 9th, 10th, 16th December
LIVERPOOL (2020) - 14th JANUARY, 11TH FEB, 10TH MARCH
LOUGHTON, ESSEX - 2nd DECEMBER
LOUGHTON, ESSEX (2020) - 20th JANUARY
CREWE, CHESHIRE - 27th OCTOBER, 10th, 24th NOVEMBER, 15th DECEMBER
ASHFORD, KENT - 6th, 23rd OCTOBER, 3RD, 23rd NOVEMBER, 2nd JANUARY
FAVERSHAM, KENT - 23rd OCTOBER, 20th NOVEMBER, 11th DECEMBER, 2nd JANUARY
SURREY - 20th OCTOBER,17th NOVEMBER
SCOTLAND - 6th NOVEMBER, 9th FEBRUARY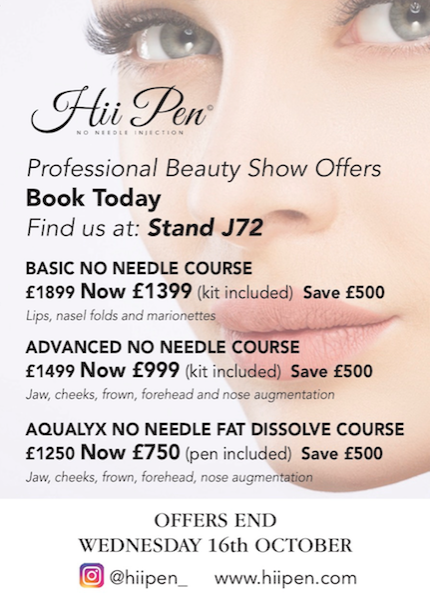 Pay Deposit Now for liverpool dates
We now have a 'Buy Now' feature which allows you to pay your deposit for the Hii Pen Beginners Course. If you wish to pay a deposit online please specify which date you wish to attend by emailing us using the form below.
Pay Deposit now for Loughton dates
If you wish to pay a deposit for any loughton dates please click on the 'Buy Now' button to your right. Please remember to specify which dates you require by emailing us through the form below.